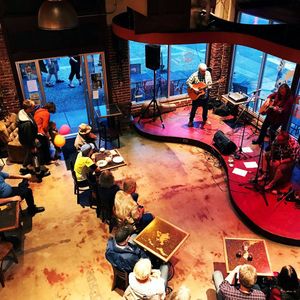 We're settling in to our new digs in Moscow, Idaho and getting reconnected with the local music venues. There are some new places here since I left 10, long years ago. 
We had our first duet performance at Slice and Biscuit. Good crowd, nice staff, lots of brews on tap, and hot pizza. They have a fantastic patio stage but it was raining that night so we were inside.
June 15th we played at One World Cafe. It was Artwalk Friday so lots of folks coming and going. We were joined by our talented musician friend, Paul Anders, on mandolin, fiddle, harp, and cajon. It was great seeing many old friends and familiar faces.
We've got some more gigs lined up at public venues and a wedding and more to get on the calendar for fall. We're trying to leave a few weekends free for exploring beautiful Idaho!
We always appreciate your listening support and look forward to seeing you at one of the shows.
Cheers for a happy summer!