In the News and Reviews
Go Magazine Review
Riley's Range Benders have been one of the stalwarts of the Central Oregon roots-music scene over the past several years, playing the Hoedown for Hunger and High & Dry Bluegrass Festival, tons of events and regular bar/restaurant gigs all over the region. It's easy to hear why they get so many gigs. Kelly Riley is a veteran singer-songwriter with a talent for blending folk, blues, country and bluegrass into something that's easygoing and easily likable. Perhaps most striking is her voice, a sturdy alto that anchors her agile songs. In the Range Benders, she's joined by skilled guitarist Peter Lupi and bassist Aaron Moore. Together, the group will play two gigs this week: Sunday night at Broken Top Bottle Shop, and Thursday at Northside Bar & Grill. See the listing for more details.
Ben Salmon   GO magazine  Central Oregon Night life  12-5-2014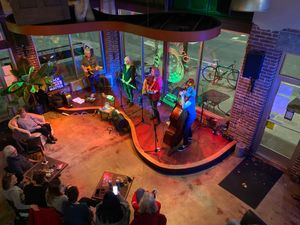 Review by Vladimir Steblina (retired US Forest Service) from USA Backroads

This CD Kelly L.Riley "My Kind of Road" is about the backroads of the American west. It has become a favorite of all my Forest Service friends. On this CD you will find references to the John Day River and Summer Lake in Oregon, the Payette River in Idaho, and other places well known to those of us that travel the backroads.
The song " Tequila Tonight" has the great line "Tears and Tequila flow like a river tonight." Great songs about lost loves and the landscape of the west that seems to encourage those lost loves. All the songs were written by her.
There is also her voice. Somewhere in the neighborhood of Pasty Cline and K.D. Lang. As a friend said, "What a voice.....what does she look like?". Hmm, maybe it is attitudes like that lead to those lost love songs!
When I travel I ride with Bob Wills, Merle, and the Dead. But this CD gets played as often as those by the more famous performers. 
There are lots of great singers and performers out of the backroads. This is one I have found that you might have missed.